Fall 2021 Jewelry Trends
Posted by DANIELA FOUNDER ADDICTED 2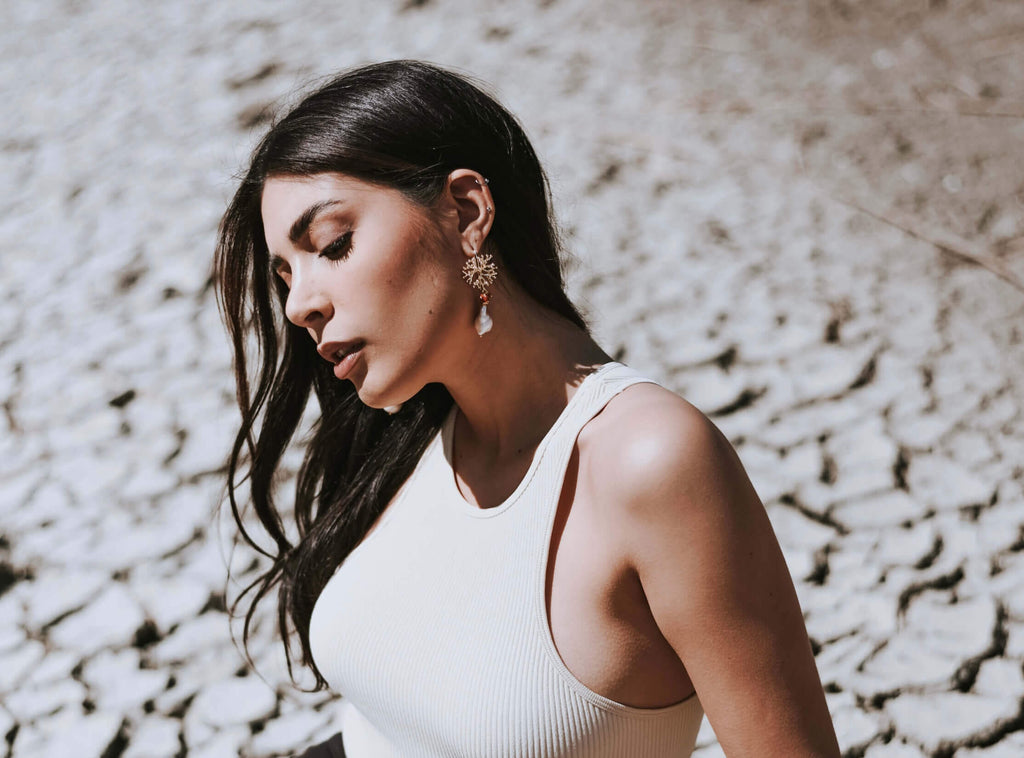 It may be a reaction to the pandemic and life on Zoom, but the trends for Fall 2021 in terms of jewelry are far from discreet!
We have video calling to thank for this new era of high-waisted clothing that puts i jewels, especially earrings and necklaces, in the spotlight.

Jewelry is such an easy way to spice up that tie-dye lounge set you've been wearing for a week straight. The designers don't disappoint, then, crafting bold and eye-catching pieces that will help you stand out from your fellow Zoom peers.
2021 is officially the year of theexcess of accessories. While past trends were all about delicate layers, this fall season will be all about drama.
From flashy earrings to bold gold necklaces, modern circles, and revival anni '80s, there is something for all tastes. Don't underestimate the power of accessories.
Discover below the best jewelery trends for Fall 2021 to invest in now.
1. Flashy Earrings
Staying on the subject of "bigger is better", the large earrings they are making a big comeback.
It may be a response to life on Zoom, but for Fall 2021, designers have delved into the world of statement earrings. Whether you are a lover of big circles, glittering chandeliers, dripping pearls, or of the flower power, considered good for the upcoming fall season.
Earrings can create a sense of personality for those who dress simply. They can even create an entire look for a FaceTime conversation, even if the bottom half is still pajamas. Essentially, this season's statement earrings are what her shoes they were for Carrie Bradshaw.
2. Return to the Chains
Good news for those who've been stocking up on chains in recent years: they'll continue to reign supreme this fall.
In contrast to the delicate layers of necklaces used in past seasons, the trend now revolves around chunky gold chain necklaces. The fashion world can't do without these sturdy knits and the latest iteration comes in an extra-large size that represents the height of elegance. And for this you can say thanks to the return of the 80s.
3. Power to Pearls
L'obsession with pearls it's bound to stick around for a while. So, if you're considering investing in your pearl jewelry, you should.
Classic and modern, pearls have always been trendy. They are mainly defined as the "white-hot" trend in jewelry. Following this trend, all the big fashion houses, fashion influencers and celebrities have thrown themselves into it, combining their pearls in versatile and chic ways.
Evidently, jewelry has an effect on how we feel and attitude throughout the day. It affects our mood. It also gives us a sense of power. And as soon as you dress up in your pearls, you can already feel their queen air!
4. With charms
The symbols of luck, love and spirituality are stronger than ever. This trend has been around for a few years and hasn't reached its peak yet. It seems that charms are like chocolate, you always want more. And you're in luck because designers keep making them.

Whether your appreciation goes to the candy-colored charms or the classic gold coin, this fall the theme of pendants on chains it will be a relevant choice of accessories.
If you have a particular adoration for charms, enjoying this accessory trend is a perfect option. Collection 2019 Sale 70% Off Title for image